---
We enjoy keeping up with the journey of our clients on social media, and we always appreciate when they use platforms such as LinkedIn to share the success of the members on their team.
Casey Smock, the manager at FedEx Freight in Atlanta, Georgia, is pictured below with Billy McDougle, the December 'leader of the month'. According the Casey, Billy "comes to work everyday with a strong winning attitude – constantly seeking ways to improve on the previous day's results." Now that's the type of person you want to recognize and reward!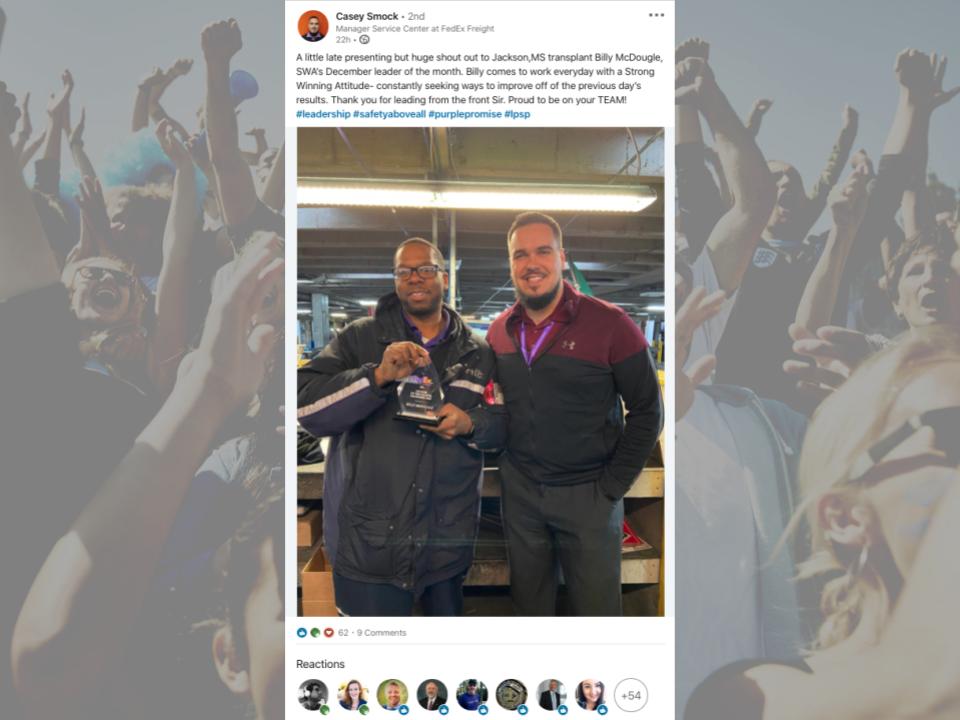 Keep up the great work, Casey and Billy. It's awesome that you're showing recognition to those who deserve it and promoting that strong winning attitude amongst your team! Active and engaged managers like Casey show appreciation for the extra effort and leadership behavior displayed by exceptional employees like Billy.
Check out other winners our clients share with us in the Client Stories section in our Learning Center.
What's your story?
We love hearing how employee recognition is coming to life in your business and seeing pics from client presentations. It gives us a chance to share in the celebration!
Share your stories and send us your pics by either:
Sharing them with your Engagement Coach via phone or email
We may feature you as one of our Customer Stories in our Learning Center, and share it with everyone in our network, too!
Read more client success stories!
For a manager, it's a great feeling to present your team with…
Check out more posts from the
MyEmployees Learning Center
---
Peep these recognition tips and tricks and get rolling with employee recognition. Read more here.
Become a top 10% manager in your industry and get the promotion you've always dreamed of with some of the tips and training you'll find HERE.
Get inspired by some of our most successful customers HERE.
Yes, we're unique. Learn all about the fun and adventures that make us who we are HERE.