---
Those first presentations are magical. The excitement is high, and everyone gets pumped to cheer on their coworkers, especially when they're seeing the awards come out for the first time.
In Clarksburg, VA, Unifirst Location Manager, John Cale got off on the right foot with 3 awards for September Fiscal Year 2020.
After the awards were presented, John supercharged the recognition by taking this awesome pic and posting it to LinkedIn…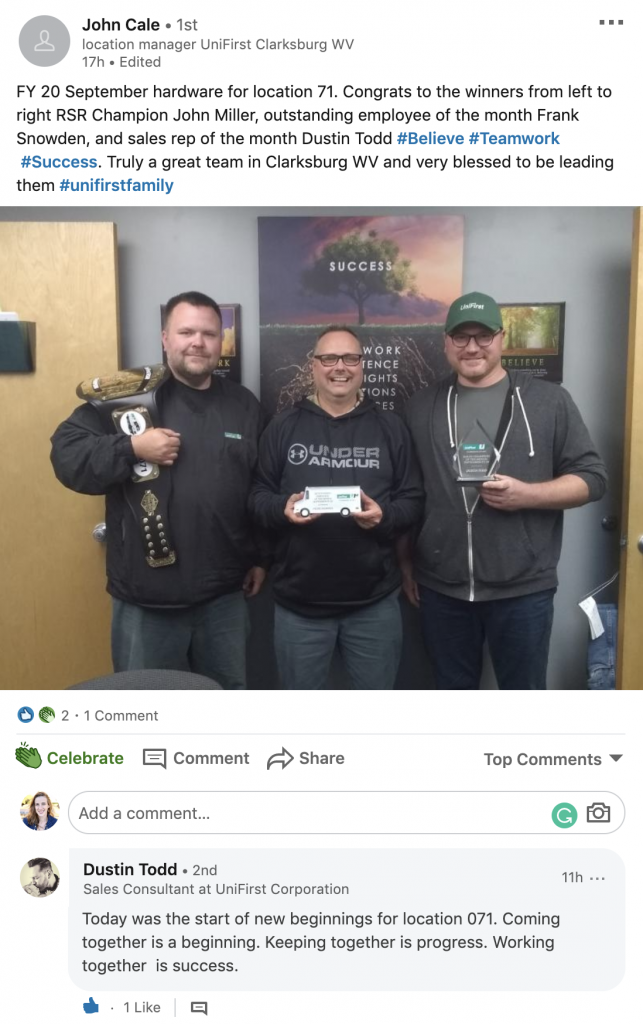 Did you catch the comment by Dustin, one of the winners? It's clear that there's a boost in workplace culture on the horizon in Clarksburg.
These are the kinds of moments great leaders create when they show heartfelt appreciation to the employees who give their all for the company everyday.
"Truly a great team in Clarksburg, WV, and very blessed to be leading them" ~ John Cale, Location manager, Unifirst, Clarksburg, WV
We love seeing engaged and active managers like John. It's always a "win" when managers make recognizing and engaging their team a priority!
Check out other winners our clients share with us in the Customer Stories section in our Learning Center.
What's your story?
We love hearing how employee recognition is coming to life in your business and seeing pics from client presentations. It gives us a chance to share in the celebration!
Share your stories and send us your pics by either:
Sharing them with your Engagement Coach via phone or email
We may feature you as one of our Customer Stories in our Learning Center, and share it with everyone in our network, too!
Check out more posts from the
MyEmployees Learning Center
---
Peep these recognition tips and tricks and get rolling with employee recognition. Read more here.
Become a top 10% manager in your industry and get the promotion you've always dreamed of with some of the tips and training you'll find HERE.
Get inspired by some of our most successful customers HERE.
Yes, we're unique. Learn all about the fun and adventures that make us who we are HERE.