---
Satisfaction and happiness are contagious. If you want to improve customer satisfaction, find ways to make your employees happy. Therefore, when your employees are content at work, your customers have good experiences. As a result, business sees a boost.
According to Shep Hyken, a national survey found that engaged employees improve customer satisfaction. That leads to a 20% increase in sales and word-of-mouth referrals.
One of the most effective ways to generate employee satisfaction is with employee recognition.
Happy employees means improved customer satisfaction
How do happier employees make businesses more profitable? The answer is employees who show up every day with passion and purpose are more effective. In fact, teams ranked in the top 20th percentile in engagement see less absenteeism and 59% fewer turnovers. They also make customers more likely to keep coming back.
You've heard the old maxim "happy wife, happy life." The workplace equivalent, minus the rhyme, is "happy employees, happy customers." Study after study shows that how employees feel about working for a business affects their work and interactions with customers.
A series of annual employee engagement analyses based on surveys have consistently shown that happier, more motivated employees produce better business outcomes regardless of industry, company size and the state of the economy.
Study after study shows that how employees feel about working for a business affects their work and interactions with customers.
The findings show that the most successful organizations make employee engagement central to their business strategy. Their employees exude positivity, provide more knowledgeable service and tend to build better relationships with customers.
Employee recognition promotes job satisfaction
Products and pricing are important, but another key to improving your customer happiness is to focus on employee happiness. How do you create a workplace that promotes that happiness? Start by acknowledging jobs well done and demonstrate that you appreciate top performers.
Leadership that recognizes great employee efforts sets examples for others to follow. Consequently, letting employees nominate peers for recognition can foster camaraderie and make you more aware of low-key stars who don't shine as brightly, but consistently help their colleagues.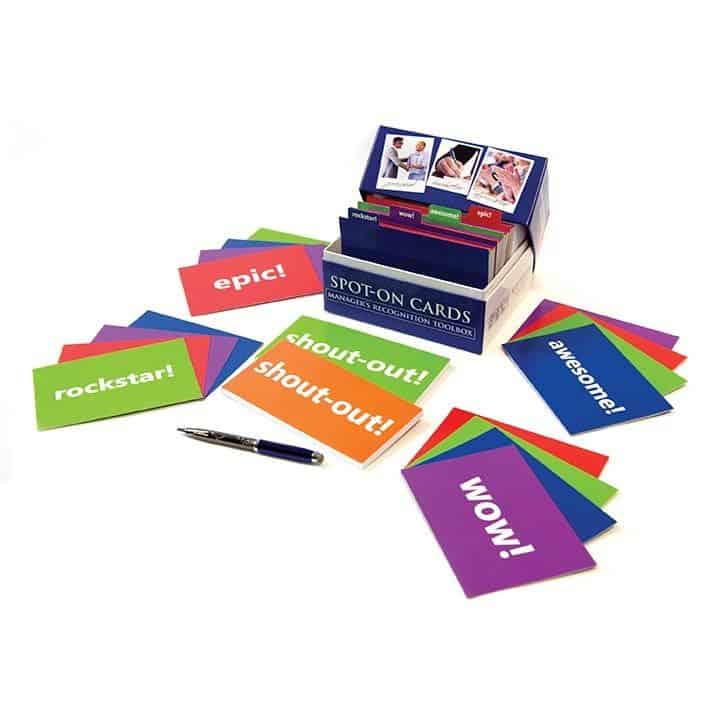 Spot-on cards and Shout-out pads are one of MyEmployees' most popular tools for leveraging peer-to-peer recognition in an effort to improve customer satisfaction. Order your's HERE.
While That may seem obvious, most employees feel they're not recognized for their work, or not enough. According to another survey, only a third of American workers reported receiving recognition or praise for doing a good job within the previous seven days. Even worse, two-thirds claimed they didn't receive praise or recognition within the previous year.
To answer this problem, MyEmployees developed a super simple mobile app: Rise by MyEmployees. Rise sends reminders when one of your employees goes too long without recognition. Set the reminder to 7-10 days, and never forget to say "thank you" again.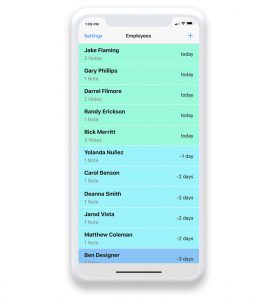 Rise by MyEmployees is available for free download on iOS HERE. (Android coming soon).
A dearth of recognition, one of the top reasons employees quit, leads to more problems. In today's tight labor market, that lack of support for employees can lead to being short-handed, and poor customer service as a result.
Simple appreciation is appreciated
Establishing a culture of engaged employees who feel valued starts with showing that you value them. As a result, some organizations are hesitant to implement recognition programs because of cost concerns. That's shortsighted with all the research on customer satisfaction and employee engagement. Meanwhile, more people prefer praise than prefer financial rewards.
Public recognition in the form of an employee-of-the-month commendation, preferred parking place or other visible signs of appreciation can be very effective in improving morale and team spirit as well as, indirectly, improving customer satisfaction.
Here are a couple of pics our clients shared on social media showcasing their employee of the month presentations. Find more examples in the Customer Stories section of our Learning Center.
More ways to improve customer satisfaction with employee recognition
Connect with us today for more ideas on creating a company culture where employees are happy and dedicated to improving customer satisfaction. Send us a message right now through the chat on this page, or connect with us via one of the options below.
For more great leadership tips, check out…
Communication lies at the heart of effective leadership. In the dynamic landscape of the modern…
Why is motivating employees so important? Motivated employees contribute to productivity and success, which also…
A well-developed coaching strategy helps workers see the bigger picture and stay engaged. It's a…
Check out more posts from the
MyEmployees Learning Center
---
Peep these recognition tips and tricks and get rolling with employee recognition. Read more here.
Become a top 10% manager in your industry and get the promotion you've always dreamed of with some of the tips and training you'll find HERE.
Get inspired by some of our most successful customers HERE.
Yes, we're unique. Learn all about the fun and adventures that make us who we are HERE.