---
Recently, our Engagement Coach, Paula, had a great phone call with Andron Evans, GM at Homewood Suites in Largo, Maryland.
Turns out Andron has been using the MyEmployees program at every property he's managed for the last 15 years!

Let's join in mid-conversation and check out what Andron had to say about why he keeps coming back year after year, at every single location he leads:
(Click to hear the audio, or check out the transcript below…)
Andron: I used you a lot. I used you at my last property. Especially with the Shout-Out Cards. I use the Shout-Out Cards, and I went a little step further…

I use this for my housekeeping department, to show them some TLC. Each person has to give me a list of 5 items that they like: 3 junk food and 2 healthy snacks. I purchase 3 of those items off their list. Then I keep those items in my office, sort of like a grocery store. Each item is equivalent to "X" amount of Shout-Outs. You come and pay with your Shout-Outs to get a juice or soda or whatever you need.

Paula: I love it! That's awesome! I'm gonna tell about that one. Let me ask you this, what's the greatest benefit you've seen since you started that program?

Andron: It increased people's excitement. People are always excited to get enough "money" to come to the store to buy whatever they need. Each morning I'll go and tell them what the special is for the day; I might have Oodles of Noodles cup of soup special today [laughter]

Paula: Uh-huh, uh-huh!

Andron: So they know today, "Oh, we can buy Oodles of Noodles for lunch today? How many more Shout-Outs do I need for that?" So, you know, I get them excited with that kind of stuff. They love that.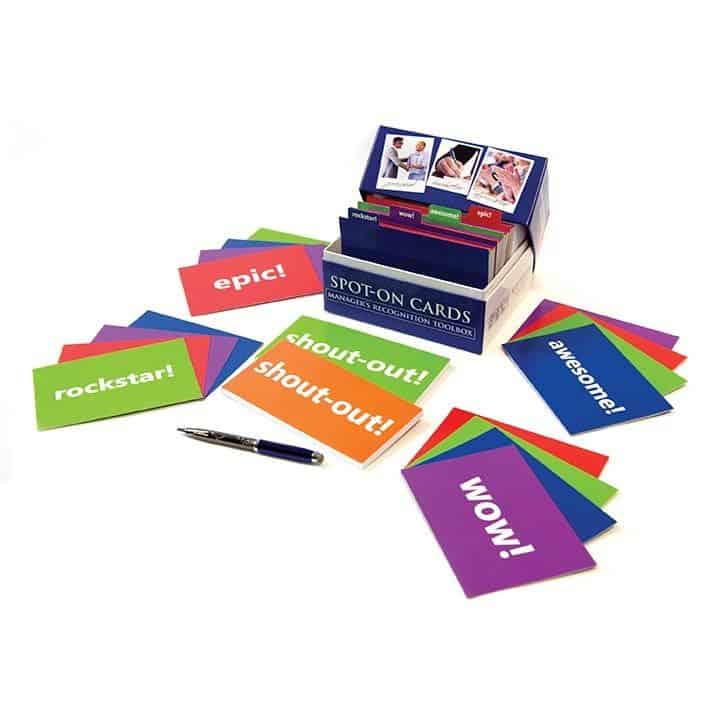 Paula: Man, you are rolling! That's great!

Andron: I love your program. I love it, I love it! It works. You can use me for any infomercial you want because it works.

Paula: I just might do that! That's awesome! Let me ask you this, how has your recognition helped with your ranking in your district, or in your field?

Andron: So, people get excited because I also tie it into my satisfaction surveys… where you can't be afraid to give people your name. So, again, based on how many mentions you get in our guest feedback survey, that also helps bump up your standing in terms of how many Shout-Outs you get, or you get bonus Shout-Out points just for that. So they get excited and tell guests, "If you need anything, ask for ME." Everybody takes personal ownership now. It builds up that personal ownership aspect.
"You can use me for any infomercial you want because it works."
Paula: Wow! That is awesome! One more thing… have you noticed any specific team members improve?

Andron: Yes, definitely. From my last property, Baton Rouge was a tough market that I worked in, real tough. Everybody just wrote those people off. I said, "Let's give them a chance." Because probably nobody ever just gave them a chance.

Just by doing the recognition, every single time, saying "Hey, good job!" and giving out the Shout-Out. And because not only the managers are able to give the Shout-Out, but you're also being recognized by your peers, that's the most significant thing. That means you are doing what you're supposed to be doing because even your co-workers who you're doing the job with are recognizing that… It creates a sense of camaraderie.

Paula: Spot-on, you got it! Your talk has even encouraged me! [Laughter] We do it around here, and it does… it works like a charm. When people get excited about it, it really does work. We've been doing it for 30 years, and we're still doing it every month, and we're still excited about it, we're still engaged, so… hey man, I'm glad to be working with you!

Andron: Oh yeah, I'm an easy sell, I'm an easy sell. [Laughter]

Andron is the perfect example of a manager who understands not only the importance of employee recognition, but also consistency. Not only that, he's taken the program and made it his own with the nuances around the "store" and collecting Shout-Outs in exchange for snacks and treats.

Thank you so much, Andron, for being an amazing client! We look forward to your success and the next 15 years!

What's your story?
We love hearing how employee recognition is coming to life in your business and seeing pics from client presentations. It gives us a chance to share in the celebration!
Share your stories and send us your pics by either:
Sharing them with your Engagement Coach via phone or email
We may feature you as one of our Customer Stories in our Learning Center, and share it with everyone in our network, too!
Check out more posts from the
MyEmployees Learning Center
---
Peep these recognition tips and tricks and get rolling with employee recognition. Read more here.
Become a top 10% manager in your industry and get the promotion you've always dreamed of with some of the tips and training you'll find HERE.
Get inspired by some of our most successful customers HERE.
Yes, we're unique. Learn all about the fun and adventures that make us who we are HERE.